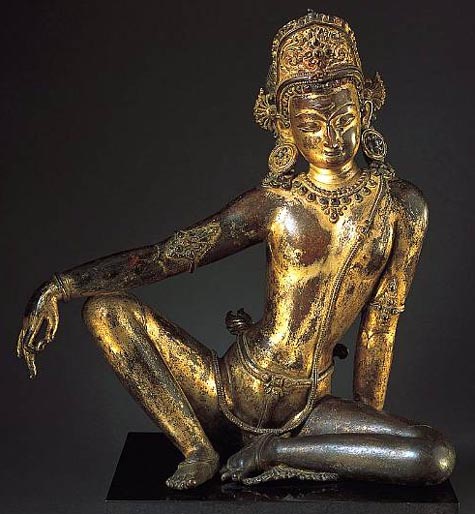 Shri Indra was the favourite national god of the Vedic Indians, with about 250 hymns dedicated to him in the Rigveda, more than those devoted to any other god and almost one fourth of the total number of hymns of the Rigveda.
Shri Indra is the god of thunder, being similar in many ways to the Teutonic Thor (Old Norse Þorr; Old English Þunor; German Donner), or Greek Zeus/Roman Jupiter. Like Thor, he is described in the Rigveda as red- or tawny-beared (RV 10.23,4), though the extant sculpture and carvings seem to invariably show him as beardless. His characteristic weapon is the cudgel
vajra
('thunder-bolt'), just as Thor's is the famous hammer
Mjöllnir.
Shri Indra is the pre-eminent drinker of the divine
soma
(the
madhu
or 'mead' of the gods), the imbibing of which exhilerates him and aids him in his heroic actions.
Shri Indra's most important deed is the slaying of the
asura
('demon') Vritra, who is a Dragon (
ahi
). Vritra
hoards and encloses the vital elements of the universe: waters, light, cows, and Shri Indra struggled in order to free these life-sustaining treasures from the grasp of the dragon Vritra
(whose very name,
Vṛtra
, means 'the Encloser, the Obstructer') and release them into the world. And he must continually struggle against this Dragon (
ahi
), who represents the forces of Chaos and Non-Existence (
asat
).This is why one of Shri Indra's epithets is
Vṛtrahan
'slayer of Vritra, overcomer of resistance'. By defeating these forces he separates and supports heaven and earth (RV 5.29). The Norse thunder-god Thor too battles against the
midgardsorm
('serpent of Middle-Earth') at various times, as do other Indo-European Storm-Gods, such as the Hittite Tarhunnas (the weather-god) against the dragon Illuyankas.
In his battle with Vritra and other demons, such as Namuci (
na-muci
'he who won't release'), his especial friend is Shri Vishnu (RV 1.22,19), who is often described as helping Indra to defeat Vritra. Vishnu's function in the battle with Vritra seems to be primarily to 'make space' by means of his famous three strides, for Indra, about to slay Vritra, says to Vishnu: 'O my friend Vishnu, stride out widely' (RV 4.18,11). The association of Arjuna (son of Indra) and Shri Krishna (avatara of Vishnu), especially in their companionship during the Mahabharata battle, is thus prefigured by this association of Shri Indra and Vishnu.
By worship and sacrifice (especially
soma
-sacrifice, as
soma
-drinking increases Indra's strength and vigour), humans on earth help Indra in his struggles, e.g.:
'Sacrifice, Indra, made you grow so mighty, the dear oblation with the pressed soma.
O Worshipful, with sacrifice help our sacrifice, for sacrifice helped your vajra when slaying the dragon'.
(Rigveda 3.32,12; cf. RV i.63,2)
See further below on
soma
-sacrifice.
.......



gilt Indra murti


origin: Nepal

date: 18th c.

material: gilt-bronze

size: ?

credit: Taiwan National Palace Museum


another view of previous Indra murti


origin: Nepal
date: 18th c.
material: gilt bronze
size: ?
credit: Taiwan National Palace Museum








copper Indra mask


origin: Nepal

date: 13th-14th c. A.D.

material: copper

size: ?

credit: ?


wooden Indra mask


origin: Nepal
date: 16th-17th c. A.D.
material: wood
size: ?
credit: ?



brass Indra mask


origin: India

date: present-day

material: brass

size: 6" tall

credit:

khazana.com


Indra murti


origin: Nepal

date: 9th-10th c. A.D.

material: copper-alloy, gilt

size: ?

credit:

Patan Museum


Indra murti


origin: Nepal
date: 13th c. A.D.
material: gilt bronze
size: ?
credit: ?



Indra murti


origin: Nepal
date: ?
material: ?
size: ?
credit: ?



Indra sculpture


origin: Mathura, India

date: 4th-5th c. A.D.

material: red sandstone

size: ?

credit:

Mathura Sculptures


Indra (or Vishnu?) sculpture (fragment)


origin: Saptasamundari Well,

Mathura, India

date: early part of 2nd c. A.D.

size: ?

credit:

Mathura Sculptures


Indra sculpture (fragment)
with garland and vajra


origin: village Tarsi, near Mathura, India

date:

c.

2nd c. A.D.

size: ?

credit:

Mathura Sculptures


madhubani painting of Indra on Airavata


origin: India

date: modern

material:

Madhubani

painting on

handmade paper treated with cow-dung

size: 10" x 14"

credit: Vidya Devi & Dhirendra Jha (artists) @

Exotic India.com


modern painting of Indra on Airavata


origin: ?
date: modern
material: ? - painting
size: ?
credit: ?





modern painting of Indra on Airavata


origin: India

date: modern

material: miniature painting on paper

size: 5.5" x 7.0"

credit: Kailash Raj (artist) @

Exotic India.com

origin: India
date: present-day
material: copper with 24k gold gild


size: 5.0" x 4.0" x 2.0" (0.6 kg)
credit: Exotic India.com


Indra murti


origin: India

date: present-day

material: brass

size: 10.0" x 9.0" x 4.4" (2.8 kg)

credit:

Exotic India.com


Indra murti


origin: India

date: present-day

material: brass

size: 7.5" x 6.0" x 7.5" (1.6 kg)

credit:

Exotic India.com


Indra murti


origin: India

date: present-day

material: brass

size: 5.5" x 4.3" x 9.5" (2.7 kg)

credit:

Exotic India.com


Indra murti


origin: India

date: present-day

material: brass

size: 12" tall

credit:

Khazana.com


Indra murti


origin: northern India

date: present-day

material: brass

size: 9" tall

credit:

Khazana.com

origin: Madhya Pradesh, India
date: ?
material: sandstone
size: ?
credit: National University of Singapore Museum



carving of Indra riding Airaavat


origin: ?
date: ?
material: stone
size: ?
credit: ?



carving of Indra and Surya


origin: Bhaja, India
date: ?
material: stone
size: ?
credit: ?


origin: Nepal

date: 19th-c.

material: bronze w/ turquoise, coral, glass

size: 20"h. x 17"l. x 7"w.

credit:

BURCHARD GALLERIES INC


Deities within the Muladhara Cakra:
Indra, Brahma, Dakini (clockwise from bottom)