---
---
---
KATARS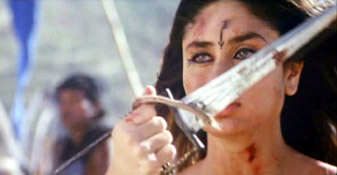 [Kaurwaki (
Kareena Kapoor
), Princess of Kalinga, holding a katar. from the film
Asoka
]

Shastar: @ the Gatka (Sikh) Federation
- katars and other weapons
Katars @ the Islamic Daggers Site

Some katars @ the Czech Military Museum

Brief description of the katar
---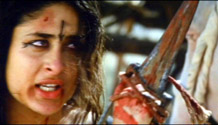 KATAR GALLERY
---
SUBCONTINENTAL ARMS & ARMOUR, GENERAL
[Portrait of
Shivji
(1630-1680): founder of the Maratha Nation (modern
Maharashtra
), carved out by defeating the alien Mughals]
Bharat Raksha


'consortium of Indian military websites'

---
Kalarippayattu - Indian Martial Arts
(originating largely from Kerala [in the south of India])
Kalarippayattu (Prof. Phillip B. Zarrilli)
-
offers a collection of academic papers, video clips, and an extensive bibliography related to kalarippayattu
M.K.G. Kalari Sangam (Thalaserry, Kerala)
-
Gurukkal Vishwanathan Gurukkal, sangam has speciality in Thulunadan style in the Kuzhi kalari
Kalari Payatt - Mother of All Martial Arts
ENS Kalari Centre
-
established in 1954 at Nettoor (Kerala), training in both the Northern and the Southern systems of Kalarippayattu
l'Association Française Kalarippayat CVN Kalari
-
(en français)
Budokaido - (modern) Nepalese Martial Arts
Budokaido - Nepali Martial Art
---
Arms, armour, weapons and accoutrements of warriors in Bharat through the ages
Ritual Weapons - Ethnic & Historic Weaponry
- essays, studies & links
the Bellydancer's Kastane
NEW!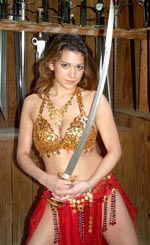 an inquiry into the origin of a standard dance accessory

Some Forums
Ethnographic Edged Weapons Discussion Forum @ Vikingsword.com
-
discussion of Asian, Oriental, exotic weaponry
SwordForum
-
includes section on blades of Middle East, Asia (India), Africa
Himalayan Imports Khukuri Forum
-
lounge for kukri experts and enthusiasts
---
GOLOCK GALLERY
[NEW!]
---
SHOPS
KHUKURI, KATAR &
OTHER SUBCONTINENTAL ARMS
SHOPS


---

HIMALAYAN IMPORTS -
best contemporary khukuris available! lifetime guarantee Valiant Co.
hand-made south-east asian blades Nepalese Khukuri House

-

another kukri seller

Shah Jahan's -

(link does not seem to be active)

traditional hand-forged Damascus steel weaponry;

using Koftgari inlays, the richest of velvets &

the finest leathers, horn and bone

---

ANTIQUE

Ashoka Arts -

antique edged weapons from the Indian subcontinent

Oriental Arms -

antique Indo-Persian arms & armour

Ruble-Enterprises

-

antique Middle-Eastern & Indian militaria

Lionsgate Arms & Armour Therion Arms Seven Stars Trading Company - Arms Les Adamson Antique Arms Paul M. Ambrose, Antiques

-

some Indian arms & armour


The Sarki Shop -
[back in business!]

custom construction/restoration/repair of khukuri sheaths, handles


MISC. KNIFE REPAIR & RESTORATION


Shapening Supplies
Chesapeake Woodworking Supplies: Sharpening Tools -
hones, stones & buffing-compounds
Lee Valley - Sharpening Supplies - more sharpening items

Spit & Shine
Flitz Metal Polish -
great for polishing & removing rust (in combination with 0000 steel wool)
Renaissance Wax - for preserving your rare finds, used by museums

Handle Materials - horn, bone, wood
Moscow Hide & Fur - horn, bone, hide from various animals

Hooflex Hoof Treatment - keeps horn handles from drying-out & cracking

Middletown Lumber - supplies of exotic woods
Eisenbran Exotic Hardwoods

Other
Universal Agencies, Inc. - Knife-Making Supplies



---




Knife-Makers



Crude Forged Knives [François Pitaud]




Misc.



Outdoors (free.fr)

[Jean-Marc] -

knives, tools, camping, mountaineering, other outdoor things



---
GENERAL KNIFE & METAL INFO
General Info on Forging/Welding Weapons through the Ages
-
@ Vikingsword.com
Damascus Steel - a brief history
-
[Christopher Lau (Motoyasu) - a professional Japanese sword polisher (experienced in both
togi
and
kantei
)]
Brief History of Steel
-
good information [Prof. H. Föll, Uni.-Kiel]
A Cross-Linked Glossary of Some Terms from the History of Metal Working
-
more good information [Prof. H. Föll, Uni.-Kiel]
Damascene Technique in Metal Working - a personal remark
[Prof. H. Föll, Uni.-Kiel]
The Key Role of Impurities in Ancient Damascus Steel Blades
-
an article by J.D. Verhoeven, A.H. Pendray & W.E. Dauksch
WOOTZ STEEL: AN ADVANCED MATERIAL OF THE ANCIENT WORLD by S. Srinivasan and S. Ranganathan, Department of Metallurgy -- Indian Institute of Science (Bangalore)
- particularly interesting discussion of steel in ancient India
The Road to Damascus: Sorting Modern Pattern Welding from Myth & Legend
-
[by Kevin R. Cashen, American Bladesmith Society (ABS) certified Master Bladesmith]
Crucible Damascus Steel [=Wootz] by Anna Feuerbach PhD
- the author of this website completed her PhD last year on 'Crucible Steel in Central Asia: Production, Use and Origins' - Dr Feuerbach has a forthcoming book on 'crucible steel' (wootz and similar steels) slated for summer 2004. She also has her PhD thesis available on CD (in Word text format) for US$5 to cover materials and postage.
WOOTZ , UKKU or true damascus steel
-- some basic info & links on damascus steel
The Serpent in the Sword: Pattern-welding in Early Medieval Swords by Lee A. Jones
- ancient Anglo-Saxon and Viking swords analysed
Mechanical properties of Modern Fabricated Pattern Welded Damascus Steels by S. Fedosov, Samara State Technical University (Russia)
Method of making Steel in the style of Damascus written in 1771 by Jean Jacques Perret
- (English translation)
Ancient carburisation of iron to steel: a comment
-
Donald B. Wagner, Dept. of Asian Studies, Uni. of Copenhagen
(webversion of article in journal
Archeomaterials,
1990, 4.1: 111-117)
Early progress in the Melting of iron
-
on making cast-iron
(V.H.Patterson & M.J.Lalich, "Fifty years of progress in the inoculation of cast irons" - 44th International Foundry Congress (1977), Florence)
Steel in Ancient Greece & Rome
-
E.A. Ginzel (Materials Research Institute, Waterloo, Ontario, Canada)
Blade Metal Info
Types of Steel used by Knife-makers
A.G. Russell Knife Encyclopaedia
Metalsmithing Links
- useful links [Lively Knives.com]
Knife-Making Tutorials
- good info [Lively Knives.com]
Ethnographic Resource Site @ Vikingsword.com
-
more Asian (& other) arms
The Crucible
- online forum about smithing